Antop World Map Mini AT-121B Indoor HDTV Antenna | Smartpass Amplified
• 3D World Map design
• Super Thin as 0.06 inch
• Smartpass technology amplifies range up to 50 miles
• 4G LTE Filter: blocks unwanted 3G and 4G signals
• Omni-directional reception for moderate signal strength areas
• Multiple set-up options: desktop, wall, window
• Compact size: 12.99 x 8.03 x .06 inch
Introduction
Antop Paper Thin Smartpass Amplified Indoor HDTV Antenna with unique 3d World Map design is aesthetically pleasing and suitable to match a wide range of home interior styles. The Omni-directional reception pattern and multiple installation options allow you to install your antenna in various locations around your home and still pick up clear signals. With the ANTOP WORLD MAP MINI AT-121B, there is no monthly fee or subscription. Just plug into a TV, scan the channels, and then enjoy your local TV shows!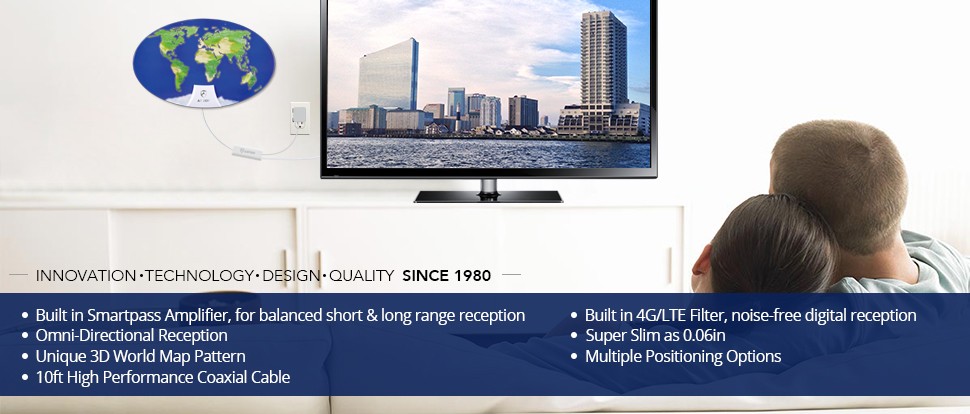 Antop's New Generation Digital Technology
The built-in Smartpass Amplifier, an exclusive technology offered only by Antop, uses an all-in-one design to allow an easier connection and deliver the correct balance between short and long range reception. AntopP was the first antenna manufacturer to include a built-in 4G FILTER in all their products to block 3G and 4G wireless signals to ensure noise-free digital TV reception.
By following the simple tips below, you can enjoy FREE TV with your Antop Antenna:
– Re-scan the channels after each switching of the Smart Switch.
– Scan channels monthly to find all available channels including newly added or changed.
– Do not place or hide the antenna in/behind any metallic objects.
– Install the antenna as high as possible and near a window for better reception.
– Keep the antenna away from any high-power consumption devices to avoid interference.
NOTE: Antenna effectiveness is influenced by the distance from signal origination point, station signal strength level, building construction, antenna positioning, reflections from nearby structures and any power consumption sources. The amount of free over-the-air channels you can receive will vary by area and antenna selection, check signal availability at Antop Signalmaps.
What's in the box
– Antenna
– Double-sided application sticker
– Push pins
– Desktop stand
– AC/DC Power Adapter
– USB Cable
-10ft Coaxial Cable
– Instruction/User Manual
– Instrucciones de Instalación en Español
Specification

Usage

Indoor, Apartment, Flat, Condominium

Signal Strength

Moderate Signal Areas

Received Band

HI-V, UHF

Amplification

Smartpass Amplified

Reception Pattern

Omni-directional

Frequency Range

174-230MHz, 470-700MHz

Gain

Switch-OFF: 12dB; Switch-ON: 22dB

Max Output level

100dBuV

Impedance

75Ω

Power Supply

DC5V via USB

Cable Length

10ft

Product Series

Paper Thin

Working Temperature Range

-68 to 140 ℉

Color

Ocean Blue

UPC

853042007052
Consumer Packaging

Weight
1.25 lbs
Dimensions
9.25 × 2.36 × 14.17 in

Customer Reviews
Let us know what you think...