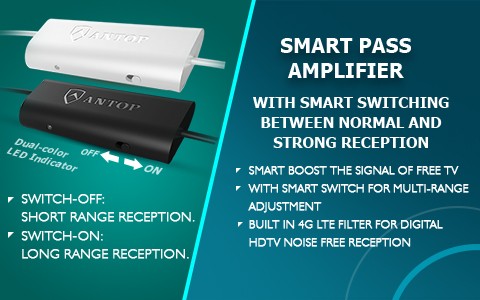 Based on a commitment to quality, engineering, research, and customer experience, Antop antennas lead the way in bringing you product satisfaction and value.
Smartpass Amplifier
An exclusive technology offered by Antop, the inline Smartpass Amplifier's all-in-one design, allows you an easier connection and more possibilities in different receiving ranges.
You don't have to hesitate any more on deciding between a short range and long range antenna! Antop's Smartpass Amplifier delivers the correct range for you.
♦Works with any non-amplified/passive TV antenna.
♦Designed with High Gain qualities to amplify VHF and UHF signals with a low noise level.
♦Dual-color indicator for long and short reception.
♦The Smart Switch is recommended to be switched ON to boost weaker signal level reception,
and switched OFF to avoid amplification overload for stronger signal reception.

4G LTE Filter
Antop was the first antenna manufacturer to include a built in 4G LTE filter. This filter will block all 3G and 4G signals from mobile phones, tablets, wireless
networks or mobile phone transmitters to ensure your noise-free digital TV reception.
Antop combines aesthetically pleasing product designs suitable to match a wide range of home décor styles and the latest technology to make antennas that not only provide you with crystal clear HDTV reception but that look good, too.
Each Antop product is supported by a dedicated team of product engineers. From initial concepts to final testing, the Antop international (US/China/Europe) engineering team controls all the variables in the development process cycle to ensure you receive the highest quality products.
In an environmentally friendly, state-of -the-art manufacturing environment Antop production specialists strictly adhere to ISO Quality Control Systems and honor CE, GS, RoHS, R&TTE, FCC and UL certificates, which ensures that the product you purchase will perform as expected.
You've researched the rest, now go with the best, Antop Products: Innovation, Design, Quality.