DTV Signal Maps and Antenna Selector
Go
ANTOP's indoor antennas are creatively designed, aesthetically pleasing, and suitable to match any home interior décor. They are quick and easy to install and feature the latest technology to make antennas that not only provide you with crystal clear HDTV reception but that look cool, too.

HDTV Indoor Antenna

Smartpass Amplified

Slim Design, Up to 50 Mile Reach

AM/FM Radio Antenna

Compact and Stylish Design

Boots FM Signal Reception
Smartpass Amplified HDTV Indoor Antenna

Up to 65 Mile Reach

RV Antenna Engineering

Smartpass Amplified HDTV Indoor Antenna

Super Thin, Up to 55 Mile Reach

Reversible White and Black Finish

HDTV Indoor Antenna

Super Thin, Up to 40 Mile Reach

Reversible Dark Walnut and Light Oak Finish

HDTV Indoor Antenna

Super Thin, Up to 40 Mile Reach

Decorative 3D World Map and Wooden Finish
ANTOP's outdoor antenna models feature slim compact designs and utilize innovative weather-resistant materials. Our outdoor models feature the latest in antenna technology and are engineered for easy installation, making them ideal to the do-it-yourself crowd.

OMNI HDTV Outdoor Antenna

Up to 65 Mile Diameter Reach

Smartpass Amplified

Good for RV Use

Flat Panel HDTV Outdoor Antenna

Up to 75 Mile Reach

Smartpass Amplified

Enhanced VHF Reception
Compact Design, Indoor/Outdoor Use

Up to 75 Mile Reach

Smartpass Amplified

Enhanced VHF Reception

Flat Panel HDTV Outdoor Antenna

Up to 80 Mile Reach

Smartpass Amplified

Excellent UHF Band Reception

HDTV Outdoor Antenna

Up to 65 Mile Reach

Built-in Innovative Elements

Excellent UHF Band Reception

HDTV Outdoor Antenna

Professional Grade

Up to 65 Mile Reach

Enhanced VHF Reception
The Right Accessories to get the job done right.

Antenna Mount

Painted Steel Tube, 22in. x 1.3in

All Ports Power Pass

High shielding structure for better signal quality

Gain 16dB Max

USB Power Supply Included, Black

15 FT. with F-male Connectors

Double Shielded for High Performance
The ANTOP suite of antenna products is a result of a firm commitment to research and development of new technologies. With a strong capacity in design and research and development, consumers can expect to see ANTOP produce the best antenna products. Innovation leads ANTOP's future development. A host of dedicated ANTOP product engineers enables the company to quickly respond to changing technologies and consumer needs. From initial concepts to final testing, the ANTOP Team controls all the variables in the development process cycle to ensure consumers receive the highest quality products.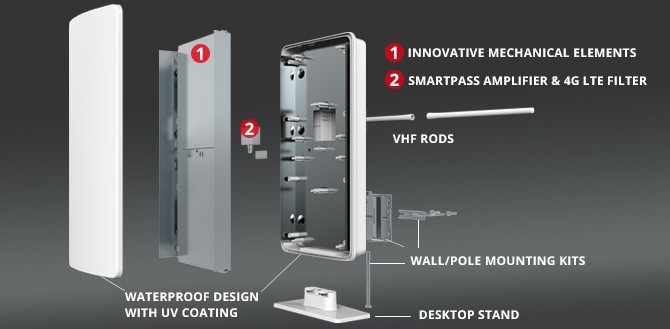 Based on a commitment to quality, engineering, research, and customer experience, ANTOP antennas lead the way in bringing you product satisfaction and value.

Antenna Tech

All Antop Antennas are 4K ready and compatible with 1080 HDTV.

Smartpass Amplifier: You don't have to hesitate any more on deciding between a short range and long range antenna!

4G lte Filter: ANTOP was the first manufacturer to include a built in 4G lte filter into antenna products.
Still paying for cable?
Still paying monthly for cable or satellite service? You'll be amazed by the amount of FREE programming options available over the air when using an ANTOP Digital Antenna.
Learn first hand how easy our antennas are to install and how to get FREE over-the-air local TV.