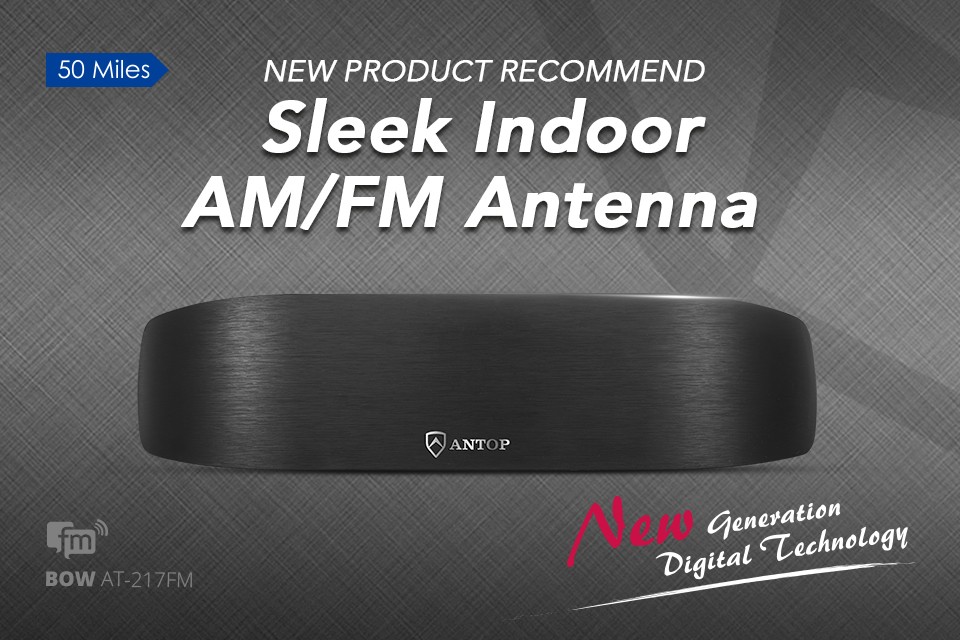 ONTARIO, Ca (May 10, 2017) – ANTOP's AT-217FM tabletop AM/FM antenna combines a sleek black hairline finish and curved new "bow" design with digital technology to provide a visually appealing product that delivers crystal clear radio broadcast signals.
The AT-217FM BOW Amplified Indoor AM/FM Antenna with multi-directional reception amplifies your signal range to deliver a superb AM/FM reception while assuring you more channel reception and fewer blind spots. Just plug into your home stereo or A/V receive and you can listen to your favorite radio stations. The elegant black and modern streamline curved panel design is aesthetically pleasing and suitable to match a wide range of home interior styles. Its compact size allows you to position the antenna anywhere in your home.
"The sleek, compact design makes for easy installation, but still delivers on the ANTOP promise of reception quality by utilizing the latest in antenna technology," said Eric Jiang, ANTOP vice president.
Range: up to 50 miles from point of signal origination
Reception Pattern: Multi-directional
Built-in Amplifier: improves signal reception, strength and clarity
4G LTE filter: built into all ANTOP products, blocks 3G and 4G wireless signals for noise-free digital reception.
Includes 6-foot coaxial cable, AC/DC Power Adapter
ANTOP's AT-217FM AM/FM Antenna is currently available on antopusa.com
As consumers Cut-the-Cord on cable and satellite TV, ANTOP continues to offer a full suite of Over-The-Air digital indoor and outdoor TV antenna product options for everyone to enjoy the freedom of no-cost free broadcast TV. ANTOP will continue to provide consumers with high quality, excellent performing antenna products. For additional information visit antopusa.com.
# # #