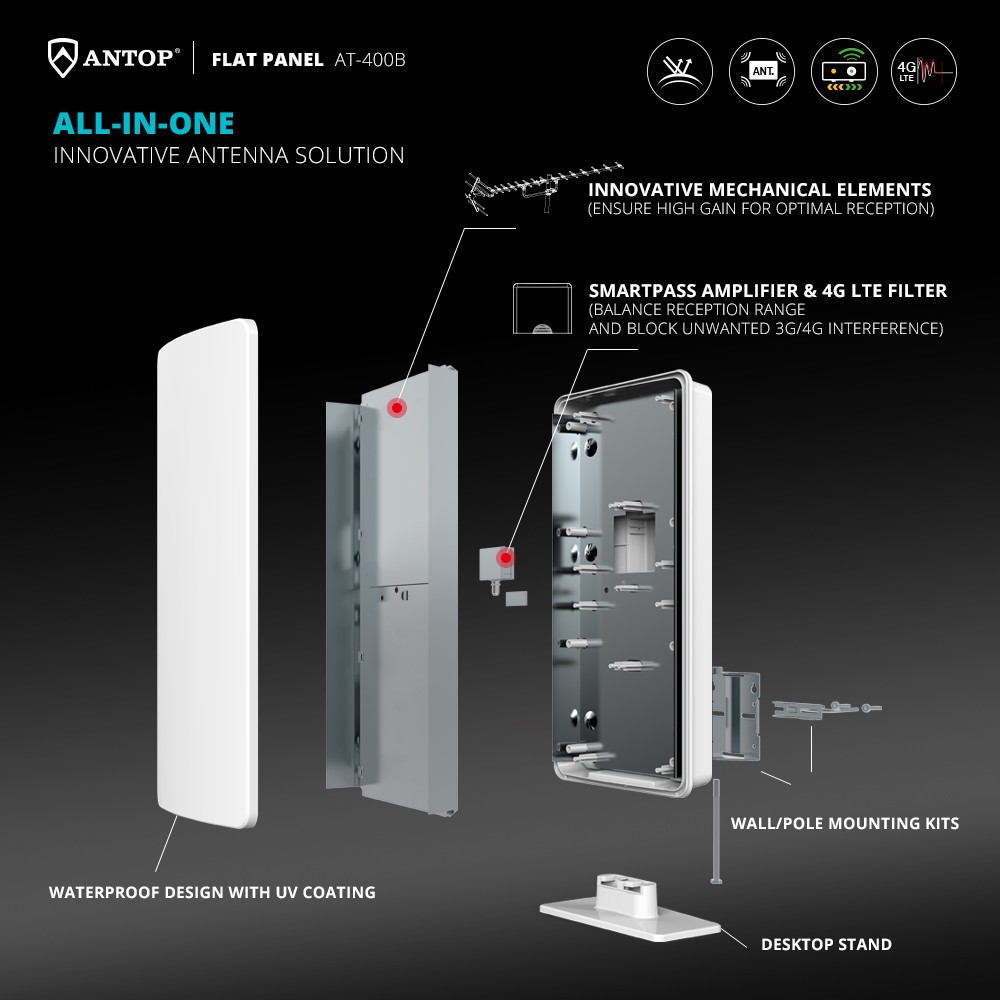 ONTARIO, Ca (September 12, 2016) — The ANTOP engineers are at it again. They've taken the traditional, unsightly Yagi mechanical type antenna through a complete re-design to make all its components fit inside a tough all-weather unit about the size of a bread box.
ANTOP's new Flat-Panel Outdoor antenna series combines classic Yagi engineering – with up to 14 elements, metal antenna dipole, directors, reflectors, low noise and anti-interference amplifiers – redesigned to achieve a similar gain level within a contemporary sleek design perfectly suited for exterior mounting on any residential home.
ANTOP's Flat Panel Outdoor Antenna series boasts nine different models. Their multi-direction coverage pattern and High Gain digital qualities ensure less blind spots and maximum reception. Reception range varies by model beginning at 60 miles and continuing up to 80 miles from the broadcast origination point. Each model comes equipped with a built in 4G LTE Filter to block 3G and 4G signals from cell phones, transmitters, and wireless networks.
"We feel that our Flat Panel Outdoor Antenna series will be a welcome change for consumers as they now have a quick and easy to install alternative to the old unsightly traditional mechanical version," said Eric Jiang, ANTOP vice president. "This product line has the capability to revolutionize the market by introducing an innovative new approach to delivering high gain signal performance similar to that of the old eight-to-24 element Yagi."
Selected amplified models include the Smartpass, an ANTOP exclusive amplifier technology that uses an all-in-one design to allow an easier connection to deliver the correct balance between short, medium and long range signal strength for better reception.
The hard ABS, anti-UV and waterproof exterior casing protects the antenna's internal elements from any weather conditions, while the sleek, flat design provides visual appeal making it perfect for outdoor installation. The unit is suited for indoor use as well, a stand is also included for table and floor positioning.
About ANTOP Antenna: Established in 1980, ANTOP has become one of the largest manufacturers and exporters of digital indoor and outdoor TV antennas. Focused on providing superior customer service and offering the best Over-The-Air TV signal reception solutions for consumer Home, Recreational Vehicle, and Marine antenna use. For additional information visit, www.antopantenna.com.
"Let's cut the cables"
ANTOP Antennas has led the global change in the design, engineering, and manufacturing of TV antennas, creating an astonishing digital signal and quality reception, paving a new path for the world to watch TV without the cables and contracts.
DISCOVER
EXPLORE
1650 South Balboa Avenue
Ontario, California 91761
United States



[elfsight_social_media_icons id="1″]