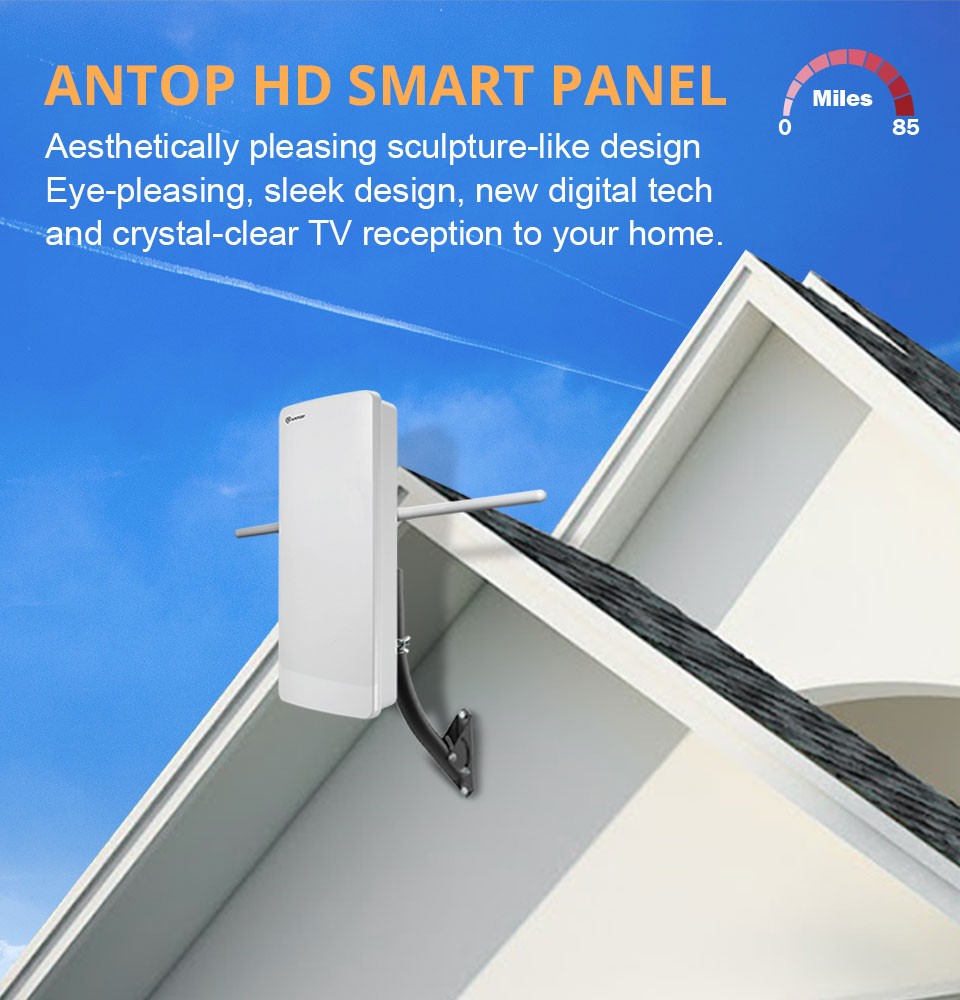 The AT-800SBS Is the Best TV Antenna You Can Get Right Now
The AT-800SBS from Antop is an essential accessory you need to have in your home. It improves the value of your TV and maximizes entertainment in your home. With various plug and play features and an 85-mile signal range, it's able to capture hundreds of HDTV shows.
It's a far cry from the traditional yagi antenna that are too complicated for consumers to use. However, it gives you the same output and more. You may think you're sacrificing something by getting rid of the bulky VHF rods, but not so. The signal enhancement works ever better.
With simple controls and a sleek design, the AT-800SBS is an HDTV Antenna for the modern home. Not only does it just work, but it also works well.
Integrated Services
The Antop AT-800SBS Antenna is a flat panel antenna featuring an amplifier and splitter. It features an integrated module which incorporates different devices. For example, there is an FM stereo, an OTA ready projecting, and of course, a streaming device.
Connect Two Devices at Once
The Antop Antenna has the option to connect two devices at once so that you don't have to buy an extra splitter. Hence, you can connect two different devices with only one antenna. If you have a TV in your living room and bedroom, then it's just perfect to support both.
Filter out 4G LTE Signals
This is one of the most useful features of AT-800SBS. With the proliferation of 3G and 4G signals around the world, there is every chance it will interfere with your reception. Luckily, the Antop Antenna has a built-in 4G LTE filter. This will help to shield your TV from pixilation and interference.
It will also allow you to use however much data you need without fear of messing up the picture. This is a very practical feature in today's world which has become saturated with 4G signals. Almost everyone is on a data plan, and it is wishful thinking to assume we're not swimming in a data ocean.
I can't tell you how many times my signal has been messed up because of interference. It's what makes 4G a two-edged sword. However, with the AT-800SBS, 4G has no caveats.
This flat panel antenna doesn't skimp out on the essentials, which is why it's such a great buy at $169.99.
Hundreds of HD Local Channels for Free
Who doesn't like Free TV? I know I certainly do. The AT-800SBS ensures that you get the best reception and the best catalog of HD channels. Not only does this add value to your TV, but it also helps to satisfy everyone in the family.
I live in Southern California,I get over 100 local channels with AT-800SBS,  there are news channels, sports channels, cartoon channels, etc. Everyone just likes a few shows from a few different networks. Why should you have to pay for the entire package if you just want to watch a single show on Friday night? The AT-800SBS has been built with this in mind.
4K Resolution
The AT-800SBS gives you multi-directional reception. With several transmissions intermingling, there's only so much you can catch with your aim in one direction. The antenna from Antop helps you get reception from every single one of those sources. Not only that, it ensures a 4K resolution at all times. From all the channels that offer 4K, you will get a crystal clear picture 24 hours a day. If you have a 4K TV,sure enough, you will get every channel with 4K just like mine.If you ever had any inhibitions about getting a 4K TV, throw them to the wind. This is the antenna that will make it all worth it.
85-Mile Signal Range
The 85-mile signal range hits the sweet spot. There are a lot of signal splitters and antennas out there, but this one takes the cake. The range on this thing is above average. This way you'll know that you're not missing out on anything.
Power Booster
This little dial sets the AT-800SBS apart from the others, aka Antop smart boost system. It helps to increases and decreases the gain instead of the simple ON/OFF function in its smart boost amplifier. This helps to adjust the signal reception. to adjust the dial at where your screen image shows the best image.
[image_with_animation image_url="285064″ alignment="center" animation="None" img_link_large="yes" box_shadow="none" max_width="100%"]
Mounting
You won't have to choose where to mount this bad boy. It can go next to your TV, on the wall or the roof. It can even go on your balcony. It's sleek and minimalist design ensures that you can pin it anywhere and it'll work like magic.
What you'll immediately appreciate about it is that it fits where you want it. It won't allow you to be vexed by the exact placement. You will find that just placing it somewhere and leaving it for good is good enough. There's even an indoor stand so you can set it and forget it.
Before starting this whole cord-cutting journey, don't forget to use  their signal map FIRST! You definitely want to make sure your location can get your favorite channel from the signal tower near you. Only by entering the zip code, you can see a list of channels you can get with their antenna. But only valid for US addresses. Also make sure that you position it outside if you're surrounded by tall buildings or trees
What You Get in the Box
The AT-800SBS comes included with an indoor stand and a mounting kit. There is an instruction manual for the details of course, along with the necessary cables.
The box contains an AC/DC power adapter, a 40-ft. coaxial cable, two 5-ft. coaxial cables, and FM antenna adapters. There are also VHF signal enhancer rods and a smart boost amplifier.
Final Verdict
The AT-800SBS is great value for money. You shouldn't think twice about this one. If you're tired of bad reception and want better TV, this is the best bargain for you.
[nectar_woo_products product_type="all" category="sbs-products" columns="2″ carousel="1″ per_page="4″]