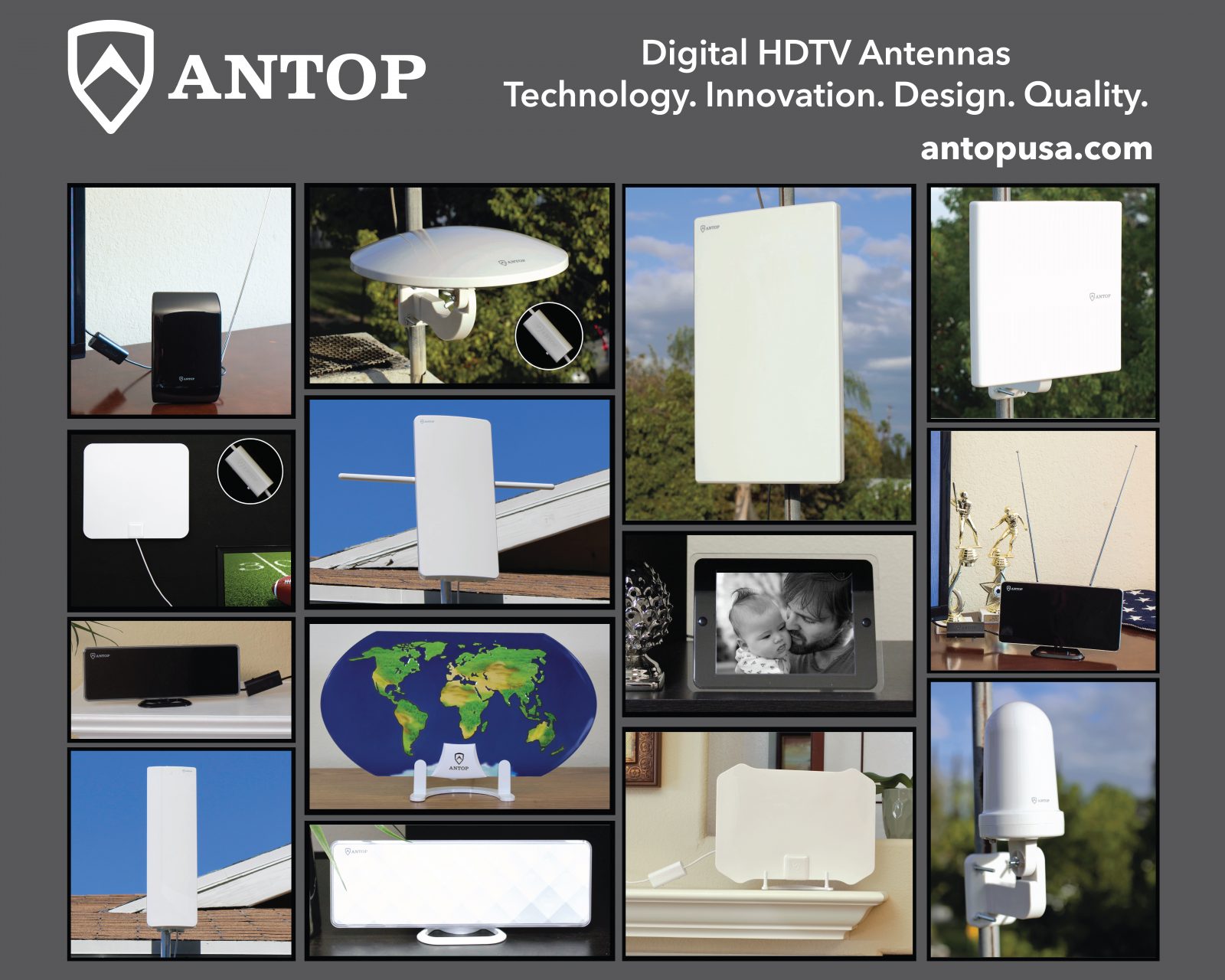 Ontario, CA (February 6, 2017) — As cable TV and satellite prices rise, ANTOP Antenna continues to provide consumers with multiple options to enjoy free over-the-air broadcast TV. With a full suite of more than 50 outdoor and indoor over-the-air digital TV antenna models, ANTOP has the free TV solution for just about every household in America.
"With the right antenna, most US households can receive free digital and HDTV signals," said Eric Jiang, president of ANTOP Antenna Inc. "Channel reception is dependent on location and the range of your antenna, and those located within 65 miles of broadcast towers can easily take advantage of free signals."
ANTOP's HDTV antennas offer distance ranges beginning at 40 miles, and continuing up to 80 miles from broadcast origination point, while reception coverage pattern options are either omni-directional or multi-directional. Indoor models include various versions of the popular paper-thin and a new photo frame antenna that fits a four-by-six-inch photograph.
A full line of outdoor antenna models, perfect for the D-I-Y crowd, are easy to install on roofs and exterior balconies and walls. Outdoor models are protected by a weather resistant finish and a UV coated ABS hard plastic housing.
Also, coming soon, the ANTOP Antenna Box which allows video streaming, recording and reception of free local broadcast on multiple devices wirelessly.
More and more, consumers are searching for ways to cut-the-cord via streaming services. A helpful hint prior to signing up for any streaming service, is to check local availability of free over-the-air broadcast television signals. With the appropriate ANTOP HDTV antenna consumers can enjoy traditional TV with no monthly charge.
As consumers Cut-the-Cord on cable and satellite TV, ANTOP continues to offer a full suite of Over-The-Air digital indoor and outdoor TV antenna product options for everyone to enjoy the freedom of no-cost free broadcast TV. ANTOP will continue to provide consumers with high quality, excellent performing antenna products. For additional information visit antopusa.com.