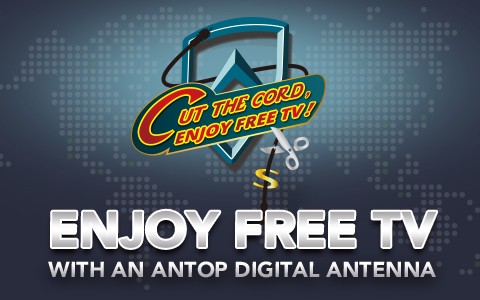 Antenna Selection Guide
Before selecting a television antenna, you'll want to collect some basic facts about your antenna needs. In addition to providing a zip code search through the Federal Communications Commission (FCC) website, we think it's important that all antenna users understand these items. We'll take you through the basics, a sort of "Antennas 101" review, followed by the easy search tool at the end that will provide you with all of the information you need about broadcast TV in your area.
Antenna styles from ANTOP include numerous indoor and outdoor models to better suite your specific needs. ANTOP antennas' range capabilities can cover from 0 to up to 100 miles from point of signal origination with coverage patterns including directions, multi-direction and Omni-directional. With more than 28 different antenna models you're sure to find the right antenna.
Indoor models
(A) The popular Paper Thin, featuring a lightweight, ultra-thin .02 of an inch design
(B) Curved and Flat Panels models, sleek and elegant
(C) And, the more traditional Ring model with telescoping antenna
(A)The Wing, Butterfly and Flat Panel, feature slim compact designs and utilize innovative weather-resistant materials.
(B)Ideal for the Do-It-Yourself crowd, these outdoor models are engineered for easy installation.
(A)The Smart Pass Amplifier, an exclusive technology offered only by ANTOP, uses an all-in-one design to allow an easier connection and deliver the correct balance between short and long range reception.
(B)4G LTE Filter. ANTOP was the first antenna manufacturer to include a built in filter in all their products to block 3G and 4G wireless signals to ensure noise-free digital TV reception.
Through the FCC search you will want to determine how far away do you live from television broadcast towers in your area. Be sure to look for ABC, CBS, FOX, NBC, PBS and The CW at the very least. Search results will give you tower distance in miles from your home address.
Antennas 101
Broadcast Tower Location
Are the television broadcast towers in your area located in the same general direction, or are some of them located in different directions? Search results will give you tower direction in degrees, clockwise from Due North. Are your desired channels within at least 90 degrees of each other, or are some outside of that range?
Single Tower Location (90 Degrees)
If towers are in a single location, both directional and Omni-directional antennas will provide reception. For the best signal reception, a directional antenna is recommended.
Dual Tower Location (180 Degrees)
If towers are grouped in two locations in the same general direction, such as living in a border area in which you want to get stations from two different cities, a multi-directional antenna is needed.
Multiple Tower Location (360 Degrees)
If towers are in multiple locations, you will need an Omni-directional antenna. ANTOP offers outdoor antenna options with a 360° coverage footprint and 55mile+ reception range so that with the use of a remote- controlled antenna rotator is not necessary.